Hello folks, in this post we have share Kannada Numbers Counting means kannada ankigalu 1 to 100 in words kannada numbers in words. It consists of kannada numbers 1 to 100 in kannada words with large number counting in kannada language with english translation.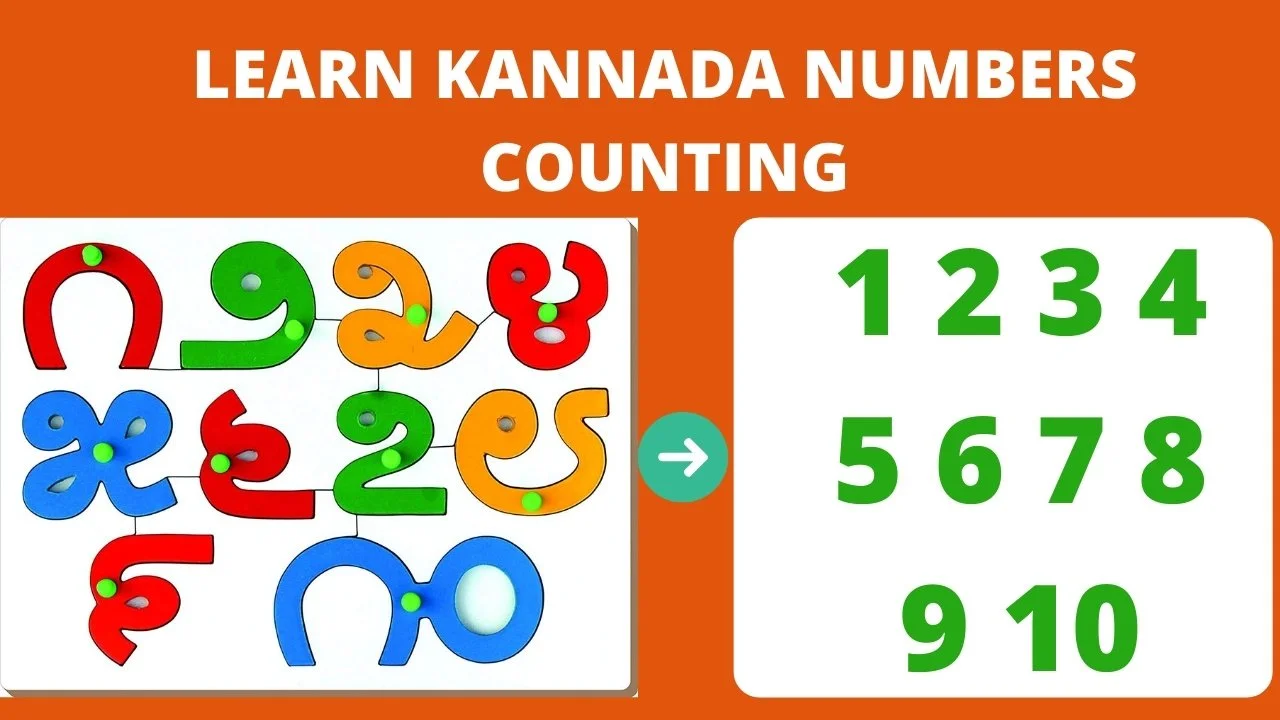 The first table contains kannada numbers 1 to 10 more precisely kannada numbers 0 to 10. If you want to learn about Hindi Numbers Counting you can visit our article also. Learn These kannada numbers counting. It may seem hard but trust me its easy, all you have to do is find the pattern and you are good to go.
About Kannada Language: Kannada is one of the 24 Dravidian languages, spoken in southern India and designated as the official language of the state of Karnataka. The states of India that border Karnataka also speak Kannada. An estimated 38 million people in the early 21st century spoke Kannada as their first language, and an additional 9 to 10 million did so as a second language. Kannada classical-language status was granted to the state of India in 2008.
Kannada Numbers From 0 to 10
| In English | In Kannada | Translation |
| --- | --- | --- |
| 0 | ೦ | ಸೊನ್ನೆ (sonne) |
| 1 | ೧ | ಒಂದು (Ondu) |
| 2 | ೨ | ಎರಡು (Eradu) |
| 3 | ೩ | ಮೂರು (Muuru) |
| 4 | ೪ | ನಾಲ್ಕು (Nalku) |
| 5 | ೫ | ಐದು (Aydu) |
| 6 | ೬ | ಆರು (Aaru) |
| 7 | ೭ | ಏಳು (Elu) |
| 8 | ೮ | ಎಂಟು (Entu) |
| 9 | ೯ | ಒಂಬತ್ತು (Ombattu) |
| 10 | ೧ ೦ | ಹತ್ತು (Hattu) |
Kannada Numbers From 11 to 20
| In English | In Kannada | Translation |
| --- | --- | --- |
| 11 | ೧೧ | ಹನ್ನೊಂದು (Honnandu) |
| 12 | ೧೨ | ಹನ್ನೆರಡು (Hanneradu) |
| 13 | ೧೩ | ಹದಿಮೂರು (Hadimuru) |
| 14 | ೧೪ | ಹದಿನಾಲ್ಕು (Hadinalku) |
| 15 | ೧೫ | ಹದಿನೈದು (Hadinaidu) |
| 16 | ೧೬ | ಹದಿನಾರು (Hadinaru) |
| 17 | ೧೭ | ಹದಿನೇಳು (Hadinelu) |
| 18 | ೧೮ | ಹದಿನೆಂಟು (Hadinentu) |
| 19 | ೧೯ | ಹತ್ತೊಂಬತ್ತು (Hattombatu) |
| 20 | ೨೦ | ಇಪ್ಪತ್ತು (Ippatu) |
Kannada Numbers From 21 to 30
| In English | In Kannada | Translation |
| --- | --- | --- |
| 21 | ೨೧ | ಇಪ್ಪತ್ತ್ಒಂದು (Ippatondu) |
| 22 | ೨೨ | ಇಪ್ಪತ್ತ್ಎರಡು (Ippateradu) |
| 23 | ೨೩ | ಇಪ್ಪತ್ತ್ಮೂರು (Ippatmuru) |
| 24 | ೨೪ | ಇಪ್ಪತ್ತ್ನಾಲ್ಕು (Ippatnalku) |
| 25 | ೨೫ | ಇಪ್ಪತ್ತ್ಐದು (Ippataidu) |
| 26 | ೨೬ | ಇಪ್ಪತ್ತ್ಆರು (Ippatarau) |
| 27 | ೨೭ | ಇಪ್ಪತ್ತ್ಏಳು (Ippatelu) |
| 28 | ೨೮ | ಇಪ್ಪತ್ತ್ಎಂಟು (Ippatentu) |
| 29 | ೨೯ | ಇಪ್ಪತ್ತ್ಒಂಬತ್ತು (Ippatombatu) |
| 30 | ೩೦ | ಮೂವತ್ತು (Muvattu) |
Kannada Numbers From 31 to 40
| In English | In Kannada | Translation |
| --- | --- | --- |
| 31 | ೩೧ | ಮುವತ್ತ್ಒಂದು (Muvattondu) |
| 32 | ೩೨ | ಮುವತ್ತ್ಒಂದು (Muvatteradu) |
| 33 | ೩೩ | ಮುವತ್ತ್ಮೂರು (Muvattmuru) |
| 34 | ೩೪ | ಮೂವತ್ತ್ನಾಲ್ಕು (Muvattnalku) |
| 35 | ೩೫ | ಮೂವತ್ತ್ಐದು (Muvattaidu) |
| 36 | ೩೬ | ಮೂವತ್ತ್ಆರು (Muvattaru) |
| 37 | ೩೭ | ಮೂವತ್ತ್ಏಳು (Muvattelu) |
| 38 | ೩೮ | ಮೂವತ್ತ್ಎಂಟು (Muvattentu) |
| 39 | ೩೯ | ಮೂವತ್ತ್ಒಂಬತ್ತು (Muvattombattu) |
| 40 | ೪೦ | ನಲವತ್ತು (Nalavattu) |
Kannada Numbers From 41 to 50
| In English | In Kannada | Translation |
| --- | --- | --- |
| 41 | ೪೧ | ನಲವತ್ತೊಂದು (Nalavattondu) |
| 42 | ೪೨ | ನಲವತ್ತ್ ಎರಡು (Nalavatteradu) |
| 43 | ೪೩ | ನಲವತ್ತ್ ಮೂರು (Nalavattmuru) |
| 44 | ೪೪ | ನಲವತ್ತ್ ನಾಲ್ಕು (Nalavattnaku) |
| 45 | ೪೫ | ನಲವತ್ತೈದು (Nalavattaidu) |
| 46 | ೪೬ | ನಲವತ್ತಾರು (Nalavattaru) |
| 47 | ೪೭ | ನಲವತ್ತೇಳು (Nalavattelu) |
| 48 | ೪೮ | ನಲವತ್ತೆಂಟು (Nalavattentu) |
| 49 | ೪೯ | ನಲವತ್ತೊಂಬತ್ತು (Nalavattombattu) |
| 50 | ೫೦ | ಐವತ್ತು (Aivattu) |
Kannada Numbers From 51 to 60
| In English | In Kannada | Translation |
| --- | --- | --- |
| 51 | ೫೧ | ಐವತ್ತೊಂದು (Aivattondu) |
| 52 | ೫೨ | ಐವತ್ತೆರಡು (Aivatteradu) |
| 53 | ೫೩ | ಐವತ್ತಮೂರು (Aivattmooru) |
| 54 | ೫೪ | ಐವತ್ತ್ನಾಲ್ಕು (Aivattnalku) |
| 55 | ೫೫ | ಐವತ್ತೈದು (Aivattaidu) |
| 56 | ೫೬ | ಐವತ್ತಾರು (Aivattaru) |
| 57 | ೫೭ | ಐವತ್ತೇಳು (Aivattelu) |
| 58 | ೫೮ | ಐವತ್ತೆಂಟು (Aivattentu) |
| 59 | ೫೯ | ಐವತ್ತೊಂಬತ್ತು (Aivattomabattu) |
| 60 | ೬೦ | ಅರವತ್ತು (Aravattu) |
Kannada Numbers From 61 to 70
| In English | In Kannada | Translation |
| --- | --- | --- |
| 61 | ೬೧ | ಅರವತ್ತೊಂದು (Aravattondu) |
| 62 | ೬೨ | ಅರವತ್ತೆರಡು (Aravatteradu) |
| 63 | ೬೩ | ಅರವತ್ತ್ ಮೂರು (Aravattmooru) |
| 64 | ೬೪ | ಅರವತ್ತ್ ನಾಲ್ಕು (Aravattnalku) |
| 65 | ೬೫ | ಅರವತ್ತೈದು (Aravattaidu) |
| 66 | ೬೬ | ಅರವತ್ತಾರು (Aravattaaru) |
| 67 | ೬೭ | ಅರವತ್ತೇಳು (Aravattelu) |
| 68 | ೬೮ | ಅರವತ್ತೆಂಟು (Aravattentu) |
| 69 | ೬೯ | ಅರವತ್ತೊಂಬತ್ತು (Aravattombattu) |
| 70 | ೭೦ | ಎಪ್ಪತ್ತು (Eppattu) |
Kannada Numbers From 71 to 80
| In English | In Kannada | Translation |
| --- | --- | --- |
| 71 | ೭೧ | ಎಪ್ಪತ್ತೊಂದು (Eppattondu) |
| 72 | ೭೨ | ಎಪ್ಪತ್ತೆರಡು (Eppatteradu) |
| 73 | ೭೩ | ಎಪ್ಪತ್ತ್ ಮೂರು (Eppattmooru) |
| 74 | ೭೪ | ಎಪ್ಪತ್ತ್ ನಾಲ್ಕು (Eppattnalku) |
| 75 | ೭೫ | ಎಪ್ಪತ್ತೈದು (Eppattaidu) |
| 76 | ೭೬ | ಎಪ್ಪತ್ತಾರು (Eppattaaru) |
| 77 | ೭೭ | ಎಪ್ಪತ್ತೇಳು (Eppattelu) |
| 78 | ೭೮ | ಎಪ್ಪತ್ತೆಂಟು (Eppattentu) |
| 79 | ೭೯ | ಎಪ್ಪತ್ತೊಂಬತ್ತು (Eppattombattu) |
| 80 | ೮೦ | ಎಂಬತ್ತು (Embattu) |
Kannada Numbers From 81 to 90
| In English | In Kannada | Translation |
| --- | --- | --- |
| 81 | ೮೧ | ಎಂಬತ್ತೊಂದು (Embattondu) |
| 82 | ೮೨ | ಎಂಬತ್ತೆರಡು (Embatteradu) |
| 83 | ೮೩ | ಎಂಬತ್ತ್ ಮೂರು (Embattmooru) |
| 84 | ೮೪ | ಎಂಬತ್ತ್ ನಾಲ್ಕು (Embattnalku) |
| 85 | ೮೫ | ಎಂಬತ್ತೈದು (Embattaidu) |
| 86 | ೮೬ | ಎಂಬತ್ತಾರು (Embattaru) |
| 87 | ೮೭ | ಎಂಬತ್ತೇಳು (Embattelu) |
| 88 | ೮೮ | ಎಂಬತ್ತೆಂಟು (Embattentu) |
| 89 | ೮೯ | ಎಂಬತ್ತೊಂಬತ್ತು (Embattombattu) |
| 90 | ೯೦ | ತೊಂಬತ್ತು (Tombattu) |
Kannada Numbers From 91 to 100
| In English | In Kannada | Translation |
| --- | --- | --- |
| 91 | ೯೧ | ತೊಂಬತ್ತೊಂದು (Tombattondu) |
| 92 | ೯೨ | ತೊಂಬತ್ತೆರಡು (Tombatteradu) |
| 93 | ೯೩ | ತೊಂಬತ್ತ ಮೂರು (Tombattmooru) |
| 94 | ೯೪ | ತೊಂಬತ್ತ ನಾಲ್ಕು (Tombattnalku) |
| 95 | ೯೫ | ತೊಂಬತ್ತೈದು (Tombattaidu) |
| 96 | ೯೬ | ತೊಂಬತ್ತಾರು (Tombattuaaru) |
| 97 | ೯೭ | ತೊಂಬತ್ತೇಳು (Tombattelu) |
| 98 | ೯೮ | ತೊಂಬತ್ತೆಂಟು (Tombattentu) |
| 99 | ೯೯ | ತೊಂಬತ್ತೊಂಬತ್ತು (Tombattombattu) |
| 100 | ೧೦೦ | ನೂರು (Nooru) |
Large Kannada Numbers Counting
| In English | In Kannada | Translation |
| --- | --- | --- |
| 101 | ೧೦೧ | ನೂರ ಒಂದು (Noora ondu) |
| 200 | ೨೦೦ | ಎರಡುನೂರು (Yeradunooru) |
| 300 | ೩೦೦ | ಮುನ್ನೂರು (munnooru) |
| 400 | ೪೦೦ | ನಾಲ್ಕುನೂರು (nalknooru) |
| 500 | ೫೦೦ | ಐನೂರು (ainooru) |
| 600 | ೬೦೦ | ಆರುನೂರು (arnooru) |
| 700 | ೭೦೦ | ಏಳುನೂರು (elnooru) |
| 800 | ೮೦೦ | ಎ೦ಟುನೂರು (entanooru) |
| 900 | ೯೦೦ | ಒಂಬೈನೂರು (ombainooru) |
| 1000 | ೧೦೦೦ | ಒಂದು ಸಾವಿರ (Ondu Savira) |
| 1001 | ೧೦೦೧ | ಒಂದು ಸಾವಿರದ ಒಂದು (Ondu savirada ondu) |
| 2000 | ೨೦೦೦ | ಎರಡು ಸಾವಿರ (Eradu savira) |
| 10,000 | ೧೦೦೦೦ | ಹತ್ತು ಸಾವಿರ (Attu savira) |
| 100,000 | ೧,೦೦,೦೦೦ | ಒಂದು ಲಕ್ಷ (Ondu laksha) |
| 1 million | ೧೦,೦೦,೦೦೦ | ಹತ್ತು ಲಕ್ಷ (Attu laksha) |
| 10 million | ೧,೦೦,೦೦,೦೦೦ | ಕೋಟಿ (Koti) |
Also Read
Watch Kannada Numbers Counting 1-100 Video